Tumaini Home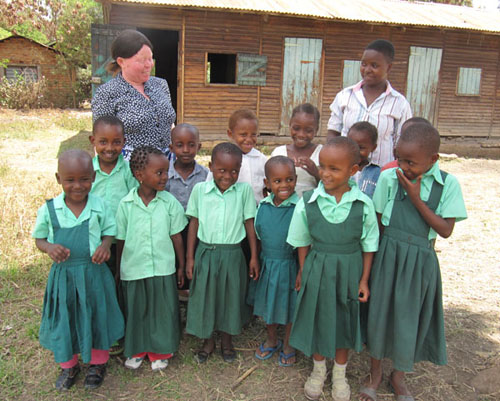 Dora with her kindergarten children
Mr Anda pushing Namelock
Habiba (in black) joins the group in Oct 2010
Since its inception in 2001, P2P Tourism Services has been involved in community activities that expanded over the years to an extent that called for a special organization to handle its charity affairs. One of the community projects that has taken off is Tumaini Home, a centre for disabled children of Monduli District in northern Tanzania. Tumaini Home brings hope to girls living in difficult and vulnerable surroundings. It is mainly concerned with the rehabilitation of physically disabled children, creation of jobs for school leavers, and providing education support for girls living in impoverished communities and vulnerable to early marriage.
Tumaini Home is located in Losirwa Village in Mto wa Mbu, on the Ngorongoro Highway, a few meters from the junction to Lake Natron. The construction of Tumaini Home is currently ongoing. The houses already built include a dormitory block, a kitchen & store house, an outside shade area for rest and recreation and a small hut for poultry. The main house and administration office are nearly finished.
Tumaini Home is currently taking care of 10 children: two in boarding secondary schools, four using the centre as a full-time home, three using the centre for hygiene/basic day classes, and one albino girl being supported until a kindergarten is established near Usa River.
At the moment, Tumaini receives funds from a charity organization in Norway and donations from some friends abroad who have heard of the centre. The centre has also received donations from visitors who come to Tanzania through P2P Safaris.